Cheffin It Up! with Jeff the 420 Chef
Unless you've been living under a rock, we're sure you've heard of cannabis edibles and probably even tried some before. There's thousands of edible marijuana treats out there to try, but not all of them are made legally or properly and lets face it; some of them just don't taste good! Jeff the 420 Chef has taken all aspects of making edibles and perfected them - taking consuming edibles to the next level. An advocate that feels strongly about the importance of proper dosage and accurate measurements, Jeff the 420 Chef has shared his recipes, catered his food and taught classes to herbalists all over the country. The "Julia Child of Weed" has become a great example, educator and idol for cannabis chef's to use and serve cannabis foods responsibly.
Like most herbalists, Jeff the 420 Chef started out getting his marijuana from friends and street dealers. But it wasn't until a friend's mother became ill that he began experimenting making cannabis edibles. "I was cooking for her and she didn't wanna smoke and she had a medical cannabis recommendation and didn't know what to do with it. So I said 'lets try making medibles,'" he told us. He admitted that his first batch came out absolutely horrible but that did not deter him from perfecting the craft and he attributes his education to no one but himself. "I did a lot of examination, a lot of research, to figure out how the plant works."
Being a self taught chef and culinary educator, Jeff the 420 Chef prides himself on sharing his knowledge with cannabis patients and other chef's. "I don't charge the people that I cook for when I cook for people that are ill. I'd rather cook for them and teach them how to do what I do so they can do it themselves." As a culinary chef in a somewhat new market in the marijuana industry, Jeff has found that he has learned tricks of the trade both on his own and from other cannabis chefs.
Believe it or not, Jeff wasn't always a 420 chef! The ganjaprenuer actually had a career as a marketing executive for underwear brands. His passion for using cannabis as medicine for patients who prefer not to smoke has led to his rather strange leap from marketing to culinary. "By the time I really got into this in a major way, I was already cooking for a few people. Word of mouth had spread that I had been doing this. And one of the people I was cooking for challenged me and said, 'You know if you could take out the taste, you'd probably have a gold mine here... Then figure out the dosages.'" It became imperative that he figure out a way to remove the strong taste of cannabis and accurately dose his patients. He found that his patients preferred to enjoy his food without knowing that they are being medicated with each bite. He has developed a method to fully remove the cannabis taste as well as a light tasting canna-butter and canna-oil method.
Removing the taste was one thing. To properly dose yourself and other patients is a completely different task. You can attribute an herbalists horrible experience with edibles to improper dosing and for that reason, Jeff the 420 Chef found it extremely important to develop a layered microdosing method. Knowing that the typical, standard dose of cannabis is 10mg per person (1½ -2 glasses of wine), he developed a method so that people can actually dose themselves and not exceed that threshold. "My whole theory is if I'm making cookies and brownies, they're going to taste amazing and you're not going to want to take just one bite," he says. "If I dose each one of those at 2mg, you can really enjoy 5 great tasting cookies and know that you're only giving yourself 10mg."
Properly dosing edibles is easier said than done, but not with Jeff the 420 Chef's new THC/CBD Calculator. Cooking with canna-butter and canna-oil can leave you wondering how much THC or CBD is actually in your edibles. Now, there's no excuse as to why you're not sure how many milligrams are in each serving of your recipes. The calculator is available now on his website, www.Jeffthe420Chef.com, and will soon be available in the iTunes Store.
Jeff the 420 Chef has always advocated for patients and herbalists to learn how to medicate themselves. He lives by his motto, "Do it yourself, do it right," with the intentions of teaching how to properly dose, cook and consume edibles to as many people as possible. In 2014, he was presented with his first opportunity to serve a private 420 meal. While the meal would not be considered legal in California unless every consumer had medical cards, he decided to teach a class instead. "I would rather teach everyone how to do it and create a whole army of 420 chefs than just keep it to myself and only help a few people." Jeff the 420 Chef travels to cannabis patients to teach them how to cook with their medicine in the comfort and privacy of their own homes. Each of his classes include basic learning (how to make canna-butter and oil) and have the capability of going as far as infusing any and every dish.
So what does Jeff the 420 Chef actually cook? "When I first started edibles, it was cookies and brownies. Then I moved up to cupcakes. Then I said, you know what, let me try a banana bread... And it just sort of moved into to all this stuff like, how about I make a chicken salad. And before I knew it, I was making all these things for all these people I was cooking for." Jeff the 420 Chef doesn't stay with the status quo recipes either! He has cheffed up some amazing meals, including traditional Jewish dishes during Shabbat that he calls "Pot Shabbats." His most popular recipes are his Thai wings and his canna-apple roses. The evolution of his recipes has led to the development of his cookbook, The 420 Gourmet (available for preorder now).
On rare occasions, Jeff the 420 Chef hosts recreational parties where he serves both medicated and non-medicated foods. At these events, he stresses about dosing, consumer safety and designated driving and has no problem having his guests adhere to his rules. He advises that since edibles take hours to fully take effect, his guests should expect to spend at least 6 hours at his event or plan to take an Uber home.
Edible eating virgins and veterans will all take a liking to Jeff the 420 Chef. Whether for his actual dishes, accurate dosing, or ability to educate, Jeff the 420 Chef is the ideal ganjaprenuer to spread edible knowledge. As a California MMJ patient, he has learned to treat himself and others, developed a dosing method, a THC/CBD Calculator and hundreds of canna-recipes. There is nothing that Jeff the 420 Chef can't do! Learn how to "Do it yourself, do it right," with Jeff the 420 Chef's new cook book and THC/CBD Calculator.
Instagram: @jeffthe420chef Facebook: Jeff the 420 Chef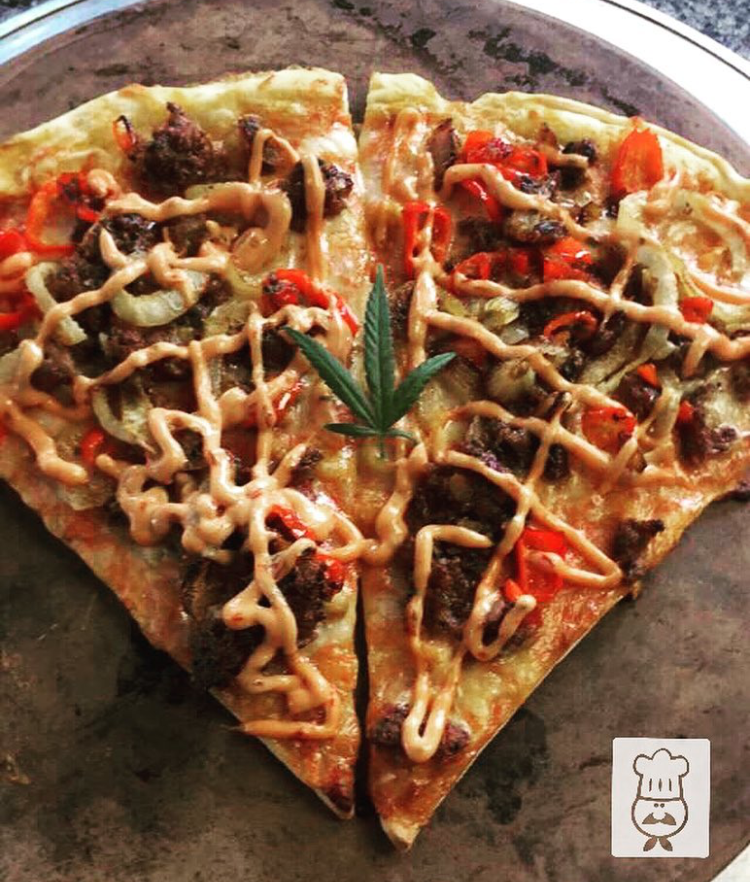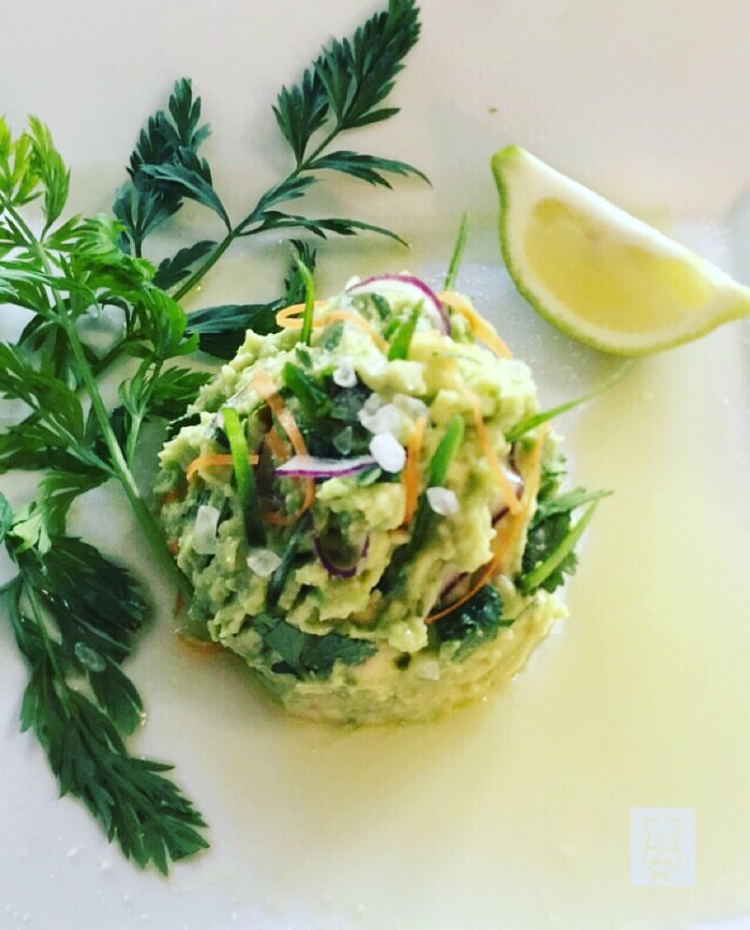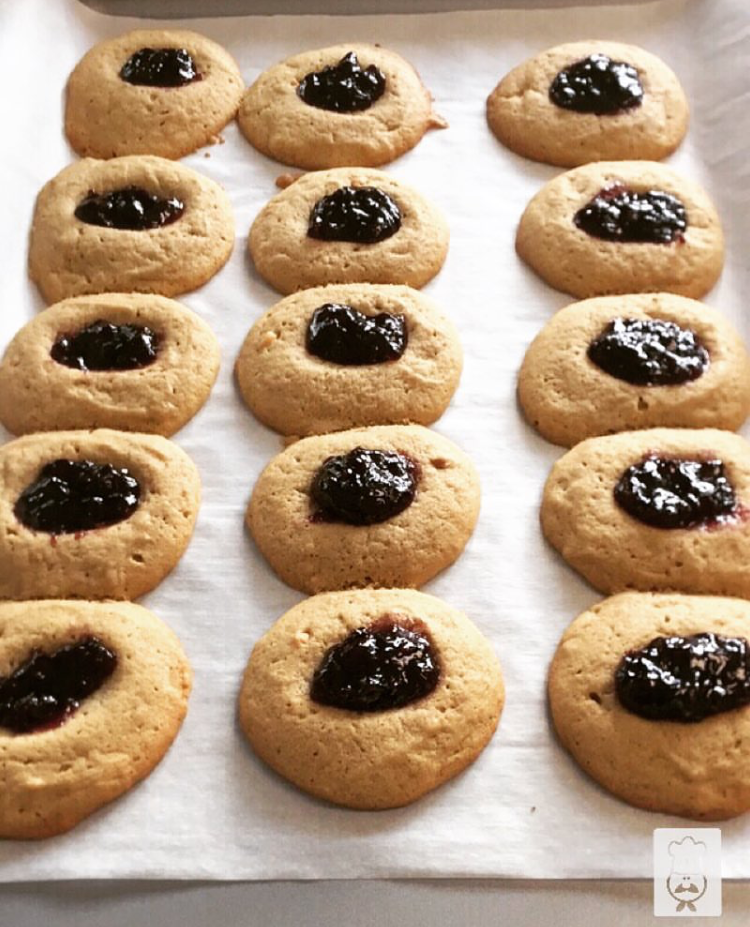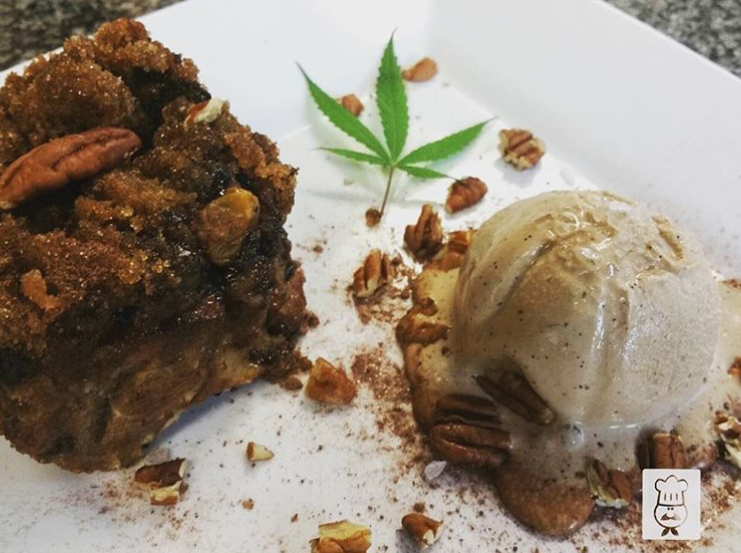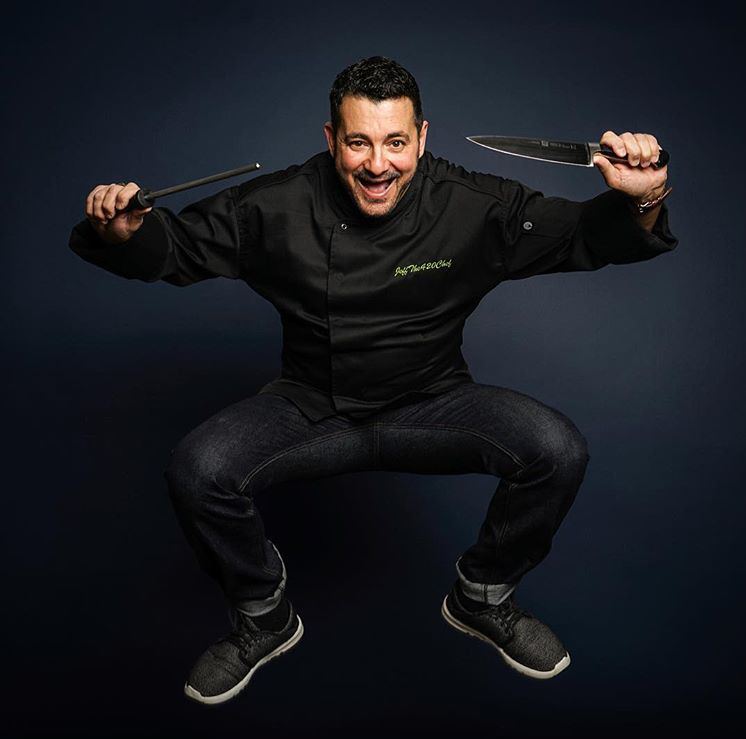 Cheffin' It Up! with Jeff the 420 Chef