UPDATE: Treyous Jarrells Post Playing High
In October, we introduced you to a star college football player who decided to indulge in the canna-business industry. His story of using cannabis as medicine as opposed to the prescribed opioids by his school, Treyous Jarrells excelled as a football player and student at Colorado State University. Before he met the repercussions of his cannabis use by his coaches, Jarrells resigned from the CSU Rams and followed his passion of horticulture. However, his transition from being a star running back to a ganjapreneur was not smooth sailing.
In September of 2016, The Coloradan released an article about Treyous entitled Playing High, which shared Treyous' story about his time at Colorado State, playing for the Rams and using cannabis as medicine. The following day, he met with CSU officials who stated, "He was stupid for releasing the article and he should not have done that. Because he admitted using Cannabis prior to games, the university maybe penalized by the NCAA. The university feels as though he threw them under the bus. He is a disgrace to the black community."
Two days after their meeting, CSUPD executed a search warrant - not for cannabis or other drugs, weapons or anything of that nature; but for a supposed football helmet that had gone missing. The helmet was said to have been seen in Jarrells possession and that he never returned it to the university. Therefore, officers armed with AK-47's and handguns raided Jarrells home "in search of the school property."
At the time of the stories release, Jarrells was already a CSU alumni living 40 miles away from the college campus. None of these factors played a part in the the university police opening a case against him. "Due to the fact that I took a stand, spoke my truth and the truth of athletes across the globe, my home was invaded..." Jarrells said.
We had the pleasure of speaking with Treyous' attorney, Mr. Steven Washington, who shared some shocking information with us about the raid at Jarrells residence. Those who were in the home were harassed and abused by the police. One individual with circulation ailments was greeted with an assault rifle to his face, grabbed up by the hair and dragged out of the house. Another individual who had just returned from dialysis was horribly treated as well. Everyone was forced to sit handcuffed and humiliated on the curb while officers raided and destroyed the home.
The search turned up with no helmet or school property, but Jarrells believes the raid was an attempt to keep him from talking any further. "For most, this incident would have resulted in them keeping quiet but in my case, it motivated me to go even harder for the cause," Treyous said. "It's referred to as Motives Made Just 4 Athletes™ or MMJ4A™ and all I ask is Colorado State University… What was your motive?"
Treyous has not let CSUPD or any authorities scare him out of the cannabis industry. As a self advocate for cannabis for medicine, Jarrells knows the miracles of marijuana and the perils of prescription painkillers. With that being said, he will continue to contribute to the community by being a cannabis advocate and providing an environmentally friendly product for cannabis growers. Jarrells and Washington are currently filing a lawsuit against CSUPD for their unlawful invasion of his home.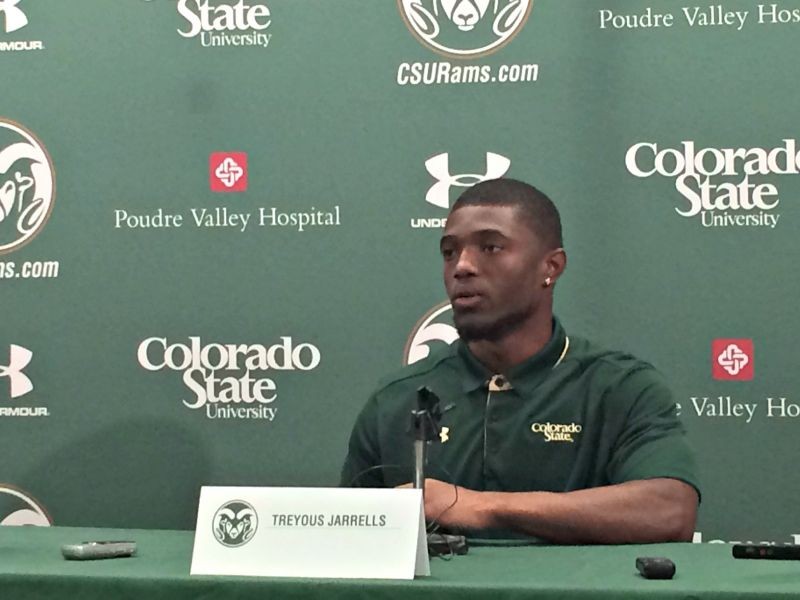 UPDATE: Treyous Jarrells Post Playing High